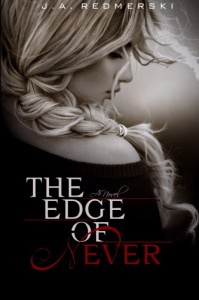 Awesome read!
The Edge of Never was my first time reading a New Adult novel and I was not disappointed at all. This was definitely packed with a lot of intense sex which was enjoyable to read, but the plot twist through me for a whirl wind.
Camryn Bennett is a twenty year old girl that left home after a fallout with her best friend Natalie over her boyfriend Damon. Damon came on to Camryn and Natalie said everything she could to hurt Camryn. After that Camryn was just tired of living a life of constant day and wanted a change, especially since being home held too many memories of her dead ex Ian. One night she got up and left and headed to Idaho on a bus to explore the world, even though she was shy and quiet.
Andrew Parrish is a twenty five year old who likes to enjoy life and say what he needs. Very outgoing and fun. He has a secret that no one but his family knows and he intended to keep it that way. He was on the same bus as Camryn headed to Wyoming to see his father in his deathbed.
While on the bus Camryn and Andrew began to get close with one another and learn about each other. They had some similarities and many differences. Andrew eventually helped Camryn break out from her shell and be more forth coming with her thoughts and words.
After about two weeks on the road together, meeting his parents and becoming a free spirited person, they had a relationship that was built on so much love and trust.
The last couple of chapters took me for a ride because Andrew's secret finally came out and things began to look grim, but thankfully everything ended on a happy note.
Favorite part: The tattoo of Orpheus and Eurydice and his explanation of it and every time he saved Camryn from a douche-bag. He definitely protected his woman.
I'm excited to read The Edge of Always next ! I need more Camryn and Andrew and more of their future!